Club Quarters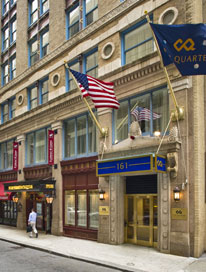 For 9/15-19, we have reserved a set of rooms at Club Quarters at a nightly rate ranging from $164-$234/night tax for a double occupancy room. A solid budget option, this basic hotel is geared towards the business traveler during the week—making for great deals over the weekend!
Officially, the hotel does not "block" any rooms. All rates listed here are subject to availability and are first-come, first-served only. To reserve at the discounted rates, call Member Services at 212-575-0006 and identify the Member Company as:
Harvard University
Group code: HUN916
Wedding rates (cite Harvard University Group Code):
Club: $164/night + tax
Standard: $184/night + tax
Superior: $204/night + tax
Suite: $234/night + tax
The hotel is located between Downtown Crossing and the Financial District. The area is very quiet at night and slightly set apart from the action, but is still central to many Boston attractions. If you want to read more about this hotel, go to their website or Trip Advisor.
To & From Club Quarters:
Closest train station is State (orange & blue lines), but the Downtown Crossing stop (orange & red lines) is not far. For directions to the hotel by car or taxi, view map. For general information on cabs and subways, go here.
Parking:
Self-parking is available at the nearby Ikon Parking Garage (1 Devonshire Street) for $16/day on Saturday-Sunday, $25/day on Monday-Friday. Valet parking through the hotel ranges from $27-$32/day. Note that neither option allows you "in and out" privileges. Drivers beware!