Restaurants
And now, on to the important stuff...what to eat! Boston is not lacking in good restaurants, and we could rattle off many more places here. These are simply a few of our favorites organized by neighborhood.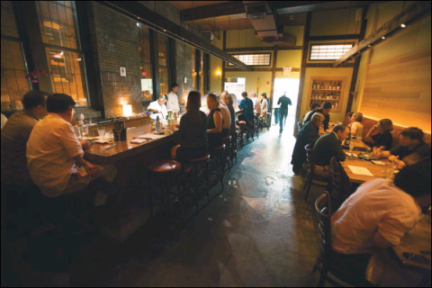 Back Bay: the heart of the city
Legal Sea Foods, various locations
Yeah, we know it's a chain. But it's still a Boston classic.
LegalSeafoods.com
Bar Lola
Good tapas, great drinks.
BarLola.com
South End: our neighborhood = foodie haven
Toro
Best tapas in town & perhaps our favorite restaurant. They take no reservations; expect a 30 minute -2 hour wait during the dinner rush. To be assured a table, arrive at 5. Don't miss the corn and the cod cakes.
Toro-Restaurant.com
Franklin Cafe
Another favorite. Has no sign—just a martini glass. Fabulous, fresh food & great drinks every time. Also takes no reservations, so expect a wait.
FranklinCafe.com
Myers + Chang
Asian fusion, diner-style and served in small plates. Casual and friendly. Think gourmet food truck.
MyersAndChang.com
B&G Oysters Ltd.
The place for oysters. Reservations highly recommended.
BandGOysters.com
Union Bar and Grille
Hearty American meals, reinvented. Always delicious.
UnionRestaurant.com
Downtown
O Ya
If you want to *truly* splurge on a culinary masterpiece, call for reservations at once. If you are lucky enough to get in, start saving. You won't regret it! Sitting at the chef's table in this tiny, 35 seat gem is a true pleasure. Small plates, sushi-style with a French twist.
OyaRestaurantBoston.com
North End: Little Italy
Giacomo's
Cash only & no reservations accepted for this reasonably-priced North End institution. Expect at least a 30 minute wait standing outside.
GiacomosBlog-Boston.blogspot.com
Monica's
Authentic, understated Italian. Either the Vinoteca or the Trattoria.
MonicasBoston.com
The Modern Pastry
After dinner, stroll over here for our favorite cannoli.
ModernPastry.com
Cambridge
Veggie Planet
Vegetarian pizza place by day, legendary Harvard Square folk Club Passim by night.
VeggiePlanet.net
Darwin's
Creative, heaping sandwiches; very 02138.
DarwinsLTD.com
Bartley's
Fantastic burgers (including veggie), with an always-timely menu.
MrBartley.com
Brunch
Much like New York, brunch is part of the culture in Boston. On the weekends, it is generally served from 10-2 (sometimes 3). If you arrive after 11, expect a wait standing outside.
Metropolis
Our regular brunch place in the South End.
MetropolisBoston.com
Mike and Patty's
Tiny spot in our old neighborhood, Bay Village. It's so small, in fact, that you may have to wait for/eat your food outside. Delicious food; charming neighborhood.
MikeAndPattys.com