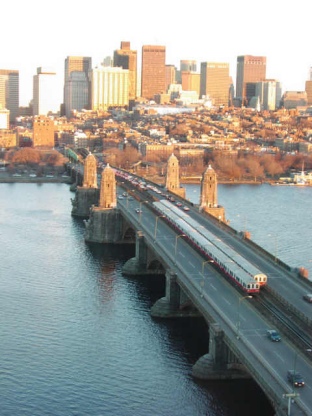 Getting around Boston
General Tips
Many of you have been to Boston before, but for those of you who haven't: there is no need to rent a car! Walking & public transportation is by far the best way to get around the city. The subway in Boston is called the MBTA (or just "The T") and their website is pretty decent.
Fare is $2/ride, or you may want to buy a $15 unlimited ride 7 day pass upon arrival. MBTA passes (called CharlieCards) allow you access to buses as well. The website can offer help with planning your route as well as various smartphone applications with the MBTA map.
To & From the Airport
In general, a taxi is the fastest and easiest way to get into the city. Cabs to central Boston from the airport will run $25-$35 with tolls and take about 10-15 minutes.
When taking a taxi in Boston, please bear in mind that the fastest route by car actually may involve weaving through various Boston neighborhoods (yes, our roads are based on old cowpaths!). While it may seem like the driver is taking you for a ride, don't be too alarmed. If you feel displeased with your taxi experience, ask your driver for a receipt showing his/her name, taxi company, amount paid, & medallion number.
From the airport, it's possible to take public transit to the center of the city. A free shuttle bus from your terminal will drop you at the subway station; ask where to go at the airport information desk near baggage claim. From there, buy a CharlieCard and take the train inbound to Boston.
Taxis
Cabs can generally be hailed on the street, but we recommend programming a few numbers into your phone just in case.
Boston Cab: 617-536-5010. (2 wheelchair/scooter accessible cabs available)
Metro Cab: 617-782-5500. (9 accessible cabs)
Town Taxi: 617-536-5000. (2 accessible cabs)
To & From the Wedding
We also have a dedicated page for wedding transport.